2nd September 2016
Water Tanks in Kenya
Posted in Our Growers.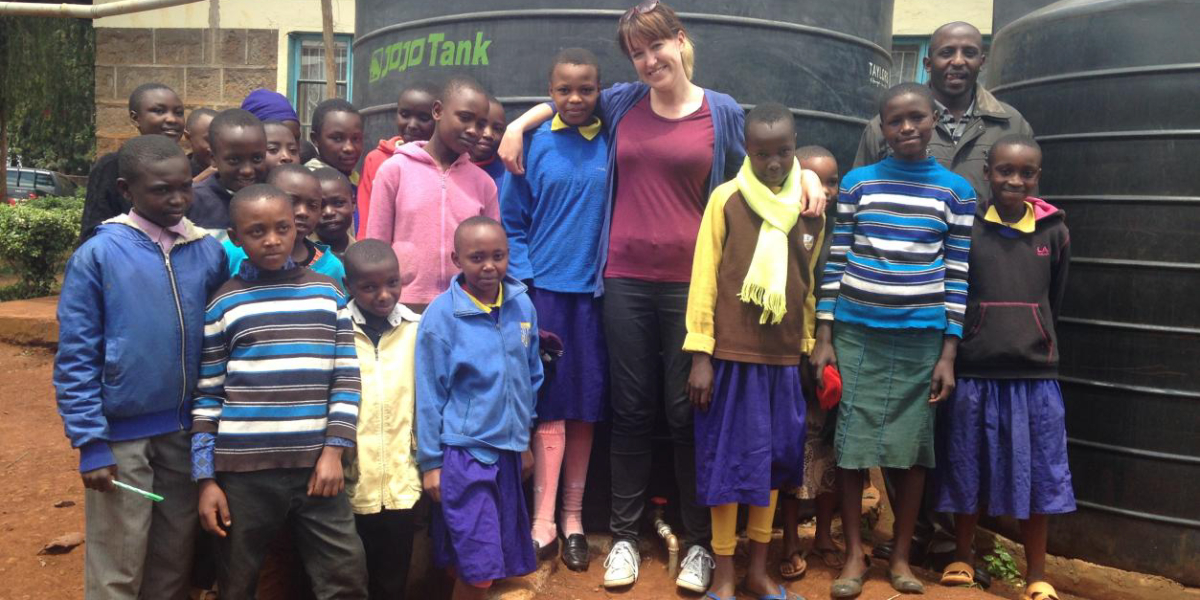 Becky in our sourcing team has just returned from Kenya, and a visit to some of the schools, medical centres and children's centres which have received water tanks through a project we funded. Here's a report from her trip. Above: Becky with Mr Michael and pupils from Mwagu Primary School in Murang'a.

"Look how fresh and clean the water is!" Mr Michael's face lit up as he opened the tap and the freezing cold water came gushing out. It's safe to say I've never seen anyone so excited about turning on a tap before. But having said that, having a clean, reliable source of water at my disposal 24/7 is something I've always taken for granted.
Mr Michael is the head teacher at Mwagu Primary School in the tea growing region of Murang'a in Central Kenya, and a vast proportion of the 388 pupils under his care come from smallholder tea growing families. Some of the best tea in Kenya is grown here, and we have been buying it as one of the key components of Yorkshire Tea for many years.
Earlier this year, Taylors of Harrogate (the makers of Yorkshire Tea) partnered with our biggest tea supplier, the Kenya Tea Development Agency, to install 53 rainwater harvesting tanks at schools, medical centres and children's homes in the heart of our tea growing communities.
Although many of these communities have mains water supplies running to their facilities, the unpredictability of these pipes remains a problem, and they often cut out for long periods at a time. Rainwater harvesting provides an efficient, environmentally friendly way of providing a secure water source that can be relied on at little cost. Water is channelled from the roofs of buildings into a large 8000 litre tank, where it can be stored and cleaned.
The fact that this water supply is free also helps these schools and medical centres to drastically reduce their running costs, as water is an expensive commodity in Kenya. With the savings they have made, many have been able to start building more facilities or employing more staff.
Each of the 53 tanks has been installed at the centre of the communities from which we buy tea. Each of these communities has their own challenges, but a secure, reliable source of clean water has been a great start to improving the lives of many farmers and their families.
"Many of our patients now come to collect water to wash, and we provide them with soap when they come," says Joyce Njero, a nurse at Mbugiti Dispensary. "We've really noticed that now we have the tank, there is a reduction in water borne diseases in the community."
Back to Mwagu Primary School, where Mr Michael proudly wants to show me the kale the school has been growing to feed its pupils, who receive a free nutritious lunch every day, which for many is the primary meal they will have. "Before the tanks we couldn't irrigate the crops due to unpredictable weather, and the fact that we aren't allowed to use the mains water for irrigation. Now, we can store enough rain water to comfortably farm crops like these, which are a great help to us in feeding the pupils."
He also tells me about a period earlier this year when the mains water supply to the school was destroyed due to bad weather.
"We had to wait for two weeks for it to be fixed" he says. "This happens every few months, and in the past the children had to carry water to school from home. But now we have the tanks, we can store enough water for a whole month's supply for the school. You really can't imagine the difference this has made!"