27th February 2017
Our ongoing work in Assam
Posted in Our Growers.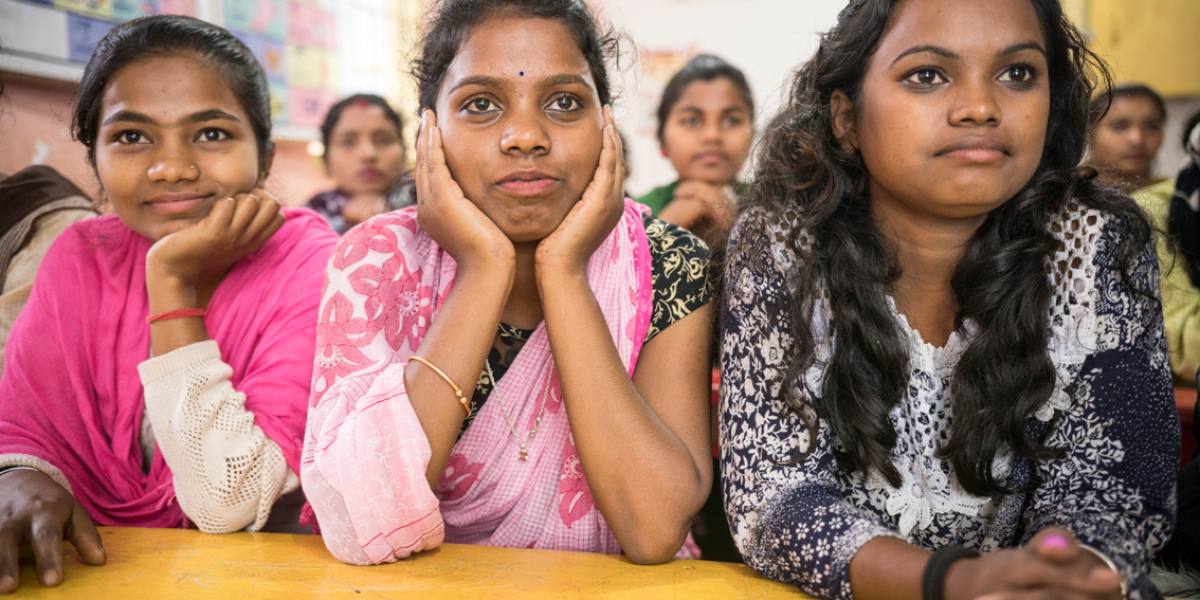 Young girls attend a health awareness talk as part of their Adolescent Girls Group. (Credit: UNICEF/2016/Lovell)

Assam is important to us. Tea grown in Assam is a key part of our Yorkshire Tea blend – its rich flavour is impossible to find elsewhere and we have a long history with many of our suppliers there. But the region is also home to deep rooted social and economic challenges – from low wages and levels of education, to monsoon flooding, poor healthcare and outdated legislative frameworks. Serious change of the scale required in Assam will be the work not of months and years, but of decades.

We acknowledge we're a small player in the Assam tea industry – indeed, the entire UK tea industry buys only 1.5% of the tea grown in the region. But we are committed to using our influence to improve social and environmental standards wherever we source from and that includes driving positive change in Assam.
Below are details of the direct work we've done, and some of the larger projects we've contributed to, in the last 12 months:
Reviewing our supply base
Assam has a huge and complex tea industry. We're committed to working only with suppliers who are serious about making improvements in the living and working conditions of their people.
During 2016, as a result of our own assessments on the ground, we reduced the number of tea plantations we buy from in Assam. We agreed what we thought decent conditions should look like and visited all of our suppliers to identify those who are committed to working towards these standards.
Some difficult decisions have been made as a result, but we remain committed to those who can demonstrate the same values we work to.

Improving housing and sanitation
Many of the changes required in Assam will need time and significant investment to achieve, not least in raising the standards of housing provided to employees.
We have been working very closely with the Rainforest Alliance and the Sustainable Agriculture Network (SAN) to create stronger standards against which our suppliers are audited.
This work resulted in a new SAN Standard being published in September 2016, which includes a greater emphasis on providing decent employee housing and sanitation facilities. Farm managers must present plans to correct any housing and sanitation shortcomings, with measurable and consistent annual targets, in order to maintain Rainforest Alliance certification.
In many cases, the size of the investment required will lead to successive improvements over several years to come. The revised Standard also encompasses more stringent requirements on worker rights, health and safety and environmental conservation; together with a provision that employers demonstrate progress towards paying employees a living wage. You can find out more about that here.
Working with UNICEF in supporting adolescent girls
Life isn't easy for children in parts of rural India and in Assam many leave school without a proper education. Children's opportunities for the future are limited and girls in particular can find themselves at risk from exploitation.
We are supporting an industry wide collaboration with UNICEF and the Ethical Tea Partnership in a project that will see more than 25,000 adolescent girls equipped with skills for a better future, while developing communities with the knowledge and structures to protect their children from exploitation.
The project has already reached 104 tea plantations, forming Adolescent Girls Groups who hold weekly meetings covering topics such as child rights; personal health and hygiene; nutrition, food hygiene and anaemia; alcoholism, child marriage and current affairs. The groups are encouraged to stage cultural performances, sporting events, arts and crafts demonstrations and workshops on sexual and reproductive health rights.
The programme is having an enormous impact on the lives of those it reaches and with UNICEF's invaluable support we know that we are improving things for future generations also. You can find out more about that here.
Improving health and safety
We have been working with the Ethical Tea Partnership, of which we are a founding member, to conduct training and guidance on occupational health and safety in order to address unsafe practices we found on a small number of plantations, particularly in the provision and usage of personal protective equipment for workers completing hazardous tasks.
Working with Indian tea industry decision makers
The role of the Indian tea industry in taking a leadership position in reforming its sector is critical. In January this year we attended a summit meeting of the main Indian tea producers, convened by the Indian Tea Association and IDH the Sustainable Trade Initiative. The objective of the event was to determine how to develop and scale-up approaches to deal with the sustainability challenges facing the Indian tea industry and its communities, so that workers' lives and the environment are improved, whilst the producers themselves continue to thrive.
The resulting roadmap towards a sustainable industry provides a framework for priority areas to address. You can find out more about that here.
Building strong plantation communities
Recently we have started prototyping a new approach to improving relations between tea plantation management, workers and residents, trade unions and the wider community. Working with the Ethical Tea Partnership, the programme seeks to empower workers and residents by forming Community Development Forums to bridge the divides between the various groups represented.
Once established, the forums ensure that there is shared understanding and ownership of the challenges each group faces, together with a cohesive and constructive plan to prioritise and resolve these issues. The model has been successful in Sri Lanka, tackling issues as wide ranging as gender inequality, alcoholism, ethnic tension, domestic financial management, and nutrition.

Change in Assam will doubtless be slower than we want – but we are committed to driving it and learning as we go. We know Yorkshire Tea drinkers buy with a conscience, and value us as a company that is a positive force in the lives of the people who grow our tea. We take our values extremely seriously, and we know our customers do too.